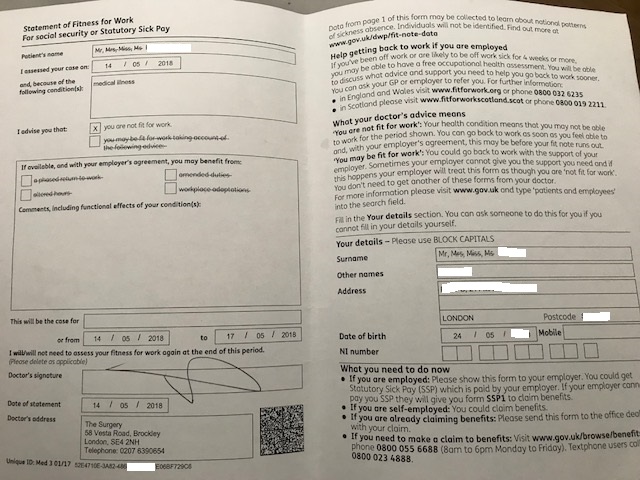 Patients Name: Write in the name of the 'sick' person, and delete the inappropriate title (Mr, Mrs, Miss, Ms etc)

I assessed your case on: This is the date of your visit to the doctor

and because of the following condition(s): enter the illness/condition here, such as Influenza, Sciatica etc.

Dates: These are pretty self explanatory but, We recommend you use your own GP as the issuer, rather than a Hospital doctor.

It would be standard for your GP to issue the sick note even if you were in hospital, as he/she would have access to your records, and would be providing aftercare.

Dates: don't always go for the date of issue of the sick note as the first day you had off, especially if it's an accident/incident/surgery based illness; like if you have a broken bone, the first thing on your mind isn't to get a sick note!

Sick notes are NEVER given in advance of treatment.
Sick notes SHOULD INCLUDE all sick days, incl self certified days and weekends.

Standard Sick Notes NEVER contain the following:
Medical Advice, Medication/Prescriptions, Waffle.
These documents are kept simple: Patient info, Illness and dates - symptoms are generally not needed. Patient restrictions caused by the illness are generally not added either.

Also we recommend that you don't overdo it with the illnesses - one is usually enough!


Doctors Signature: We'll add a default signature for you

Date of Statement: usually the date of assessment, but not always

Doctors Address: Insert the address of the doctors surgery or hospital etc.

FIT NOTES: When a sick note is issued, as a default, it assumes you are fit to return to work after the illness period; therefore in 99% of cases, no fit note is needed to be issued at the end of the illness.
On some occasions, at the end of an illness period, the doctor will issue a fit note (which doesn't cover any time already off) :
Fit notes:
1. These are for 6 months max
2. Fit notes usually just given for future dates}
3. Normally given by your GP
4. One or more of the following options must be selected:
i) a phased return to work
ii) amended duties
iii) altered hours
iv) workplace adaptations

The above selection must be qualified/quantified as necessary.
*/*/*/*/*/*/*/*/*/*/*/*/*

To order a fit note, just order as normal on the website. BUT, you must add the following in the comments section when inputting the details: You will need to ask us to tick one (or more) of these:
i) a phased return to work
ii) amended duties
iii) altered hours
iv) workplace adaptations

You will have to explain why one (or more) of these is ticked ; e.g. 'Amended Duties' -> No heavy lifting; or 'a phased return to work' -> 3 days per week recommended.
Fit notes are only given for dates BEGINNING or AFTER the date of the doctors visit, and do not cover dates when off work with the illness.
Therefore, you will often need a SICK NOTE for time off, and a separate FIT NOTE for the time you are back in work with constraints.