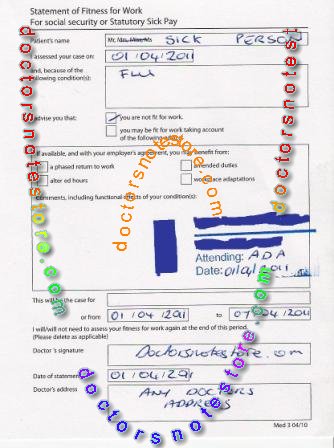 Patients Name: Write in the name of the 'sick' person, and delete the inappropriate title (Mr, Mrs, Miss, Ms etc)

I assessed your case on: This is the date of your visit to the doctor

and because of the following condition(s): enter the illness/condition here, such as Influenza, Sciatica etc.

I advise you that: tick one of the boxes as appropriate, either you are not fit for work, or you may be fir for work taking account the following advice. If you use the second option, then you may use the secondary options such as ticking the box 'a phased return to work', or 'amended duties' ; if you use these options you may use the comments section for advice such as:- recommended part-time work, or no heavy lifting as appropriate.

The Doctors Stamp: sometimes contains a blank date area, you put the date of the statement on this section.
Some doctors stamps, especially locum stamps, have an area within the stamp called: Attending ; in the section, like in the sample above, you simply put the initials of the practice or hospital where the note was signed. E.g. If the note is written from Harley Street Clinic, simply put the initials HSC in this section of the stamp. If the note is written from Manchester University Hospital, simply put in MUH in here.

This will be the case for: you can put in here 1 week, 2 weeks, 30 days etc
or you can specify the dates of the illness condition in the next section or from:

Doctors Signature: sign the name of the stamp

Date of Statement: usually the date of assessment, but not always

Doctors Address: Insert the address of the doctors surgery or hospital etc.