The Quickest and easiest way to get a UK Sick/Fit Note.
Order a sick note on this page and receive an emailed copy of your sick note (The newest Version 04/22) by email within 24 hours.

See below for how your doctors sick note may look. These have been deliberately smudged and distorted, but you'll be able to see behind this- these are 100% the real thing. Cost is just £12.49 (includes email or physical delivery).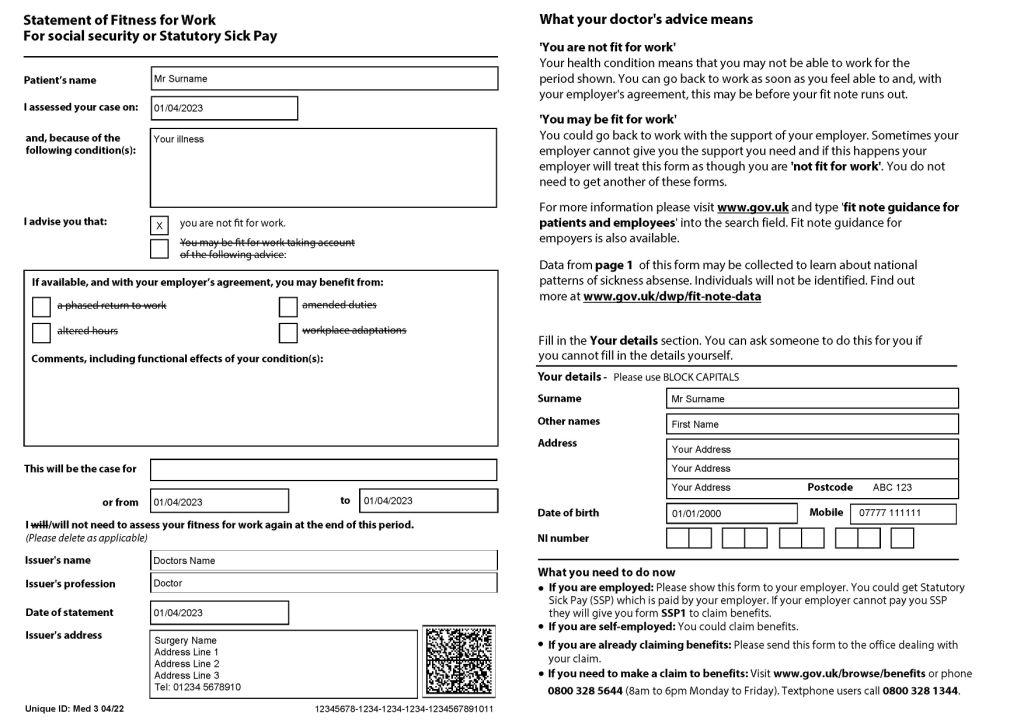 What type of sick note is for sale on this page?
If you miss work your employer may demand a doctor's certificate to declare you are or were sick - to get one of these you will have to attend the doctor to get a
Statement of Fitness for Work
For social security or Statutory Sick Pay
Since 2022 all of these notes are electronic, and are often emailed in PDF format to the patient. You can now order a replica version of these notes on this page, and get it delivered by email on the same day you order.

You will be receiving a Med 3 04/22 - the current electronic version of the sick note in the UK.
This sick note can also be used to explain absences from University/College or explaining you are unfit to travel.

Order Your NHS Fit/Sick Note Now: Only GBP£12.49'
Buying A Sick Note Couldn't Be Simpler
1. Click the Buy Now button on this page
2. Submit the details you want on your customised sick note (dates, time off, illness type etc)
3. Click Send - and you will be brought to the payment page
4. Once payment has been made, your sick note will be mailed to you



These Med 3's are the new type and include the 'Statement of Fitness for Work'
New Med 3's include 'Statement of Fitness for Work'
Fit Notes, NHS 'Statement of Fitness for Work' Official Form Med 3 National Sick Pay Note
fake med 3 sick note for sick pay in the UK
Doctors Stamp- All fake-sick notes can come with an official sick note stamp
These can be used to cover your Sick Days and Sick Pay
Standard Delivery Time for this product: Same day by email, physical delivery 2 working days.